LEGO® Modular Building reveal: 10278 Police Station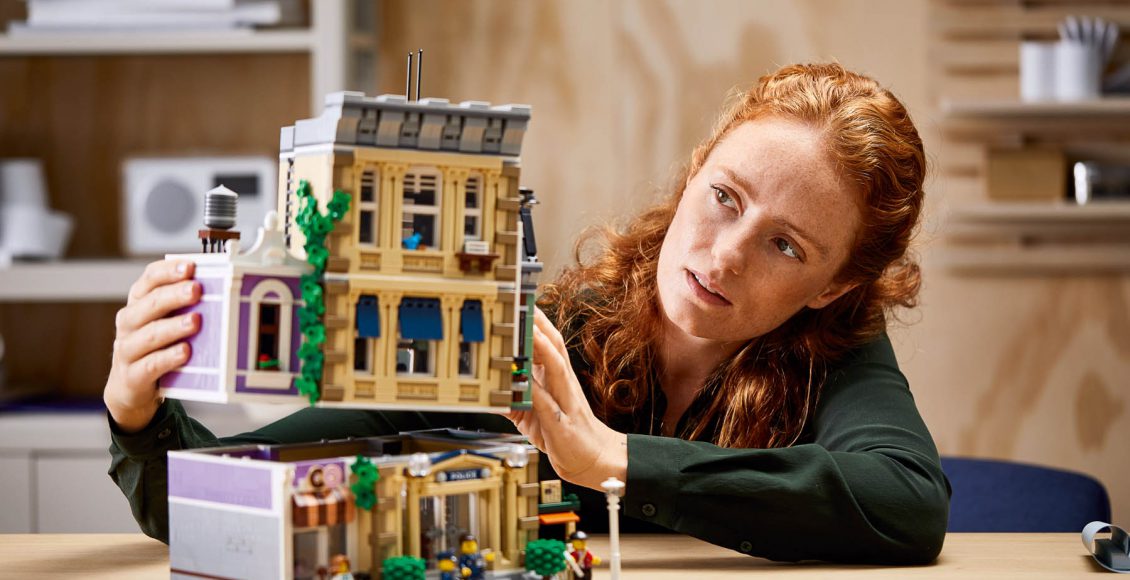 Exclusive New Parts in 10278 Modular Police Station
A new 1×3 concave slope in Medium Stone Grey / Light Bluish Gray is being introduced – at least 12 are used on the roof, and at least three in Brick Yellow/ Tan as part of the interior dividing walls.
It has a 1×1 plate cut out of the rear, which increases stability. The shape of the curve is designed to fit snugly with the existing Slope, Curved 2 x 1 Inverted (24201).
Exclusive New Colours & Printed Parts
Here are 11 recoloured and printed elements we spotted. Let us know in the comments if you see any more!
Plate Special 2 x 2 Gear with 6 Teeth (35442) in Dark Green/ Green – at least 12 are used for the foliage of the two trees either side of the main door
An unprinted version of Animal Body Part, Head Blocky with Pixelated Face Print (Wolf) in Light Bluish Gray (21098) as the detailing on the roof parapet
Bracket 1 x 2 – 1 x 2 in Sand Yellow/ Dark Tan (99781) behind the 1×2 jumpers under the front windows
Window 1 x 4 x 3 without Shutter Tabs in Dark Brown (60594)
Brick Special 1 x 1 x 1 2/3 with Studs on 1 Side (32952) in Sand Green
Tile 1 x 1 Half Circle (24246) in Reddish Brown and Nougat
2x Tile 2 x 2 Round in Tan (15535) with Reddish Brown and Pink donut patterns
Plate Special 1 x 1 with Clip Horizontal in Medium Lavender (61252)
Bar 7 x 3 with Double Clips (Ladder) in Dark Stone Gray / Dark Bluish Gray (6020)
New print for the dark blue Police torso
We also spotted a rare colour of an element returning after a very long break:
LEGO 10278 Modular Police Station Press Release
Here is the official press release.
THREE-FLOOR POLICE STATION JOINS THE LEGO® MODULAR BUILDINGS COLLECTION
The LEGO Group has announced an amazingly detailed new addition to its Modular Buildings Collection with the unveiling of the LEGO Police Station.
Hiding a wealth of features behind its impressive facade, the eye-catching new model consists of three floors and a modular structure that allows LEGO fans to fully explore the intricate interiors and increase the building's height.
Designed as a centrepiece to a bustling LEGO neighbourhood, the LEGO Police Station also comes complete with a donut shop brimming with sweet treats and a newspaper kiosk, as well as five minifigures including a 1940s-inspired police officer for ample storytelling possibilities.
Adding further architectural interest, the outside is decorated with brightly coloured awnings and ornate cornicing. The LEGO Police Station is fully compatible with other products from the LEGO Modular Buildings Collection and makes a striking display piece alongside these, as well as on its own.
The feature-packed floors of the LEGO Police Station are filled with secret surprises and delights for true-crime fans. On building the set, it soon becomes apparent that a mystery donut thief is on the loose. Naturally, the LEGO Police Station is fully equipped to tackle even the most sugary-sweet of crimes, with an evidence locker, jail cell, interrogation room and case board with red lines connecting all the clues.